NRA CLUB AFFILIATION APPLICATION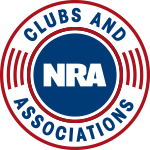 NRA Club Affliliation - New
Composition of the Organization
(PLEASE READ COMPLETELY) Organizations affiliated with the NRA must be comprised of at least five (5) persons twentyone (21) years of age or older and must have at least three (3) elected officers (Secretary and Treasurer may be combined). At least 3 officers or directors MUST hold current NRA individual memberships. Indicate Membership status by listing the NRA Membership ID number below,
NOTE: JUNIOR CLUBS - At least one adult leader must be a member of the NRA.
Only the adult leader(s) needs to be over 21 years old.
NRA Affiliation Agreement
(Name of Organization) does hereby apply for affiliation with the National Rifle Association of America (NRA). In making this application, the members of this organization have read, understood individually and collectively and agree to subscribe to the purposes and objectives of the National Rifle Association as set forth in the Association bylaws. We also certify that the conduct of this organization will not be contrary to the purposes, policies or image of the National Rifle Association.
We certify that this organization is organized by lawful purposes and has not or shall not attempt or advocate the overthrow of the United States Government, or any of its political subdivisions by force or violence. We further certify that we have not, nor will we, knowingly admit to membership any person who is a member of any organization which has any part of its program the purpose of overthrowing the government as stated above.
We certify that membership in this organization is open to all citizens of good repute, without regard to sex, race, creed, color or national origin.
The organization agrees to abide by the eligibility requirements of the NRA at all times.
All NRA Sanctioned tournaments held by this organization will be governed by the current rules and regulations approved by the National Rifle Association of America.

GUN COLLECTING ORGANIZATIONS:

We affirm that this organization exists to perpetuate the collection, restoration, exhibition and lore of firearms for legitimate purposes.
Participants at all meetings, shows and other activities sponsored by this organization will be required to conduct themselves in accordance with all applicable laws and in a safe and ethical manner.